Welcome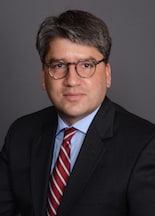 Karim P. Husain, Esq.
At the law offices of Karim P. Husain, his mission is to provide quality legal support and counsel to his clients. He works together, with the client, to achieve the most successful client outcome. For over 25 years, Karim P. Husain, Attorney At Law, has provided diligent, reliable, expert legal counsel to his clients. During this time he has earned a reputation as a talented and distinguished member of the legal community. Attorney Husain has been recognized as a "Top Lawyer" by Main Line Today in the practice areas of Bankruptcy, Wills, Trusts & Estates, Business Law, and Taxation.
Mr. Husain practices in the following areas: Wills, Estates & Trusts, Bankruptcy, Business Consulting & Commercial Litigation and Tax Controversies & Litigation.
His commitment to excellent representation includes:
Giving his clients the attention they deserve.
Explaining all options to assist the client in making an informed decision.
Maintaining client confidence.
Keeping the client informed about the status of his or her case.
Looking out for the client's immediate needs and long term interests.
Prompt return of phone calls.
Attorney Karim P. Husain emphasizes communication with his clients, persistent advocacy, and attention to all aspects of their case. Regardless of the size or level of sophistication of the case, his commitment is to obtain a just result for each of his clients. His goal is to provide a level of performance and satisfaction that demonstrates, to both clients and peers alike, nothing less than the best legal representation available.
You are invited to review this website and contact Attorney Husain with your comments and questions. Do not hesitate to arrange for a consultation, for justice delayed is justice denied. If you are seeking formidable and reputable legal counsel, call today and find out why Karim P. Husain has been recognized as one of the area's top lawyers.